Articles
CAMPUS ITALY – Column for the American online newspaper

"La Voce di New York"
Aprile 2018
Rachel, la dominicana che ha imparato l'italiano per parlare con sua suocera
Nata in Repubblica Dominicana ma con passaporto americano, ha acquisito la cittadinanza italiana quando si è sposata con il marito italo-americano
April 2018
Rachel, a Dominican Woman Who Studied Italian to Speak With Her Mother-In-Law
Born in Dominican Republic, American, Rachel acquired the Italian citizen thanks to her husband, who is of Italian descent
Marzo 2018
Meredith, da New York a Cagliari per studiare la lingua italiana dei suoi avi
La giovane 28enne Meredith Adamo, nata ad Upstate New York, dice: "Sin da piccola, ho avvertito l'esigenza di toccare con mano le mie radici italiane"
March 2018
Meredith, from New York to Cagliari to Study the Italian language of Her Ancestors
Meredith, 28, was born in Upstate New York: "From an early age I felt the need to connect with my Italian roots"
Gennaio 2018
Janice, esperta di design da San Diego, ispirata dalla "Dolce Vita" italiana
La storia di Janice Jaralcie, nata a Hong Kong ma residente in California: "Studio l'italiano per la musicalità e il romanticismo delle sue parole"
January 2018
Janice: an Expert in Fashion, in Love With the Italian "Dolce Vita"
The Story of Janice Jaralcie, born in Hong Kong, living in California: "I study Italian for the musicality and the romance of its words"
Novembre 2017
Alexandra, dagli USA con un sogno: insegnare arte medievale in Italia
La storia di Alexandra Wendt, nata a Lawrence in Kansas e appassionata d'arte, che sta frequentando a Siena la "School for Liberal Arts"
November 2017
Alexandra, from the US to Italy With a Dream: Teaching History of Medieval Art
The story of Alexandra, born in Lawrence Kansas and passionate about medieval art, who studies Italian in Siena
Un'americana a Venezia: Chloe dalla California per amore dell'italiano
Inizia "Campus Italy", la rubrica dedicata agli stranieri che imparano in Italia lingua e cultura italiana. La prima storia è di una giovane californiana
October 27 
An American Girl in Venice: Chloe, from California, for the Love of Italian
"Campus Italy" is a new column dedicated to foreigners in Italy, who are learning the Italian culture and language. The first story is from a young Californian
Italian Language in the Media e gli "Stati generali della lingua italiana"
Firenze, ottobre 2016
"La lingua italiana deve rinascere partendo dal Made in Italy", articolo per la rivista online italo-francese Altritaliani.net
Dall'oralità alla scrittura dell'e-taliano: quanto è vero il nostro italiano?
Articolo
per la rivista italo-francese Altritaliani.net
Book
After 3 years of interviews and research, in 2009 I wrote a book for the publishing house Cantagalli (Siena, Italy). The book is called "Cari nipoti (Dear grandchildren)" and it is the biography of the wife of the Italian Embassador Antonio Venturini.
Esperienze didattico-redazionali
Scripps College, Claremont Colleges (California, USA) – Academic year 2011 -2012
During the conversation classes, while I was teaching as an Italian Language Assistant, with my students of Italian we created 4 issues of the newsletter "A lezione di italiano". The students wrote the articles and made the layout of the newsletters.
Dante Alighieri, Siena – 2014
With 32 American students from the Pontifical North American College, we analized articles form a religious Italian magazine, called "Famiglia Cristiana". They had a A2 level of Italian.
With 15 students from USA, Spain, Africa we created an editorial staff for realizing a newsletter at the end of the course.
Lezioni d'Europa. A scuola di giornalismo – 2016
Not just international students: also a class of Italian students from an high school of Colle di Val D'Elsa (Siena) realized a newsletter, press releases and interviews. The course was one week long.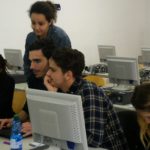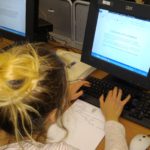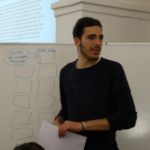 Purdue University. Study abroad in Siena – 2106

Is it possible to learn Italian while visiting the museum of a "Contrada" in Siena? Yes, it is. 15 American students from the Brian Lamb School Of Communication of Purdue University learnt 45 Italian words regarding Palio of Siena, interviewing the local community of the "Contrada Priora della Civetta", in 2 hours.
They didn't know Italian at all.
 Article
 on "La Voce di New York" (in Italian Language), June 2016